UNITES Systems a.s.
Kpt. Macha 1372
757 01 Valašské Meziříčí
Czech republic
T: +420 571 757 230
E: info@unites.cz
UNIMET 2020 introduced on Productronica!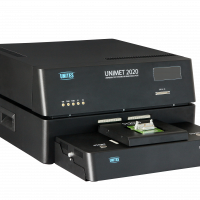 11/12/2019
New test system UNIMET 2020, successor of famous UNIMET 3000 and SZ M3000 released!
New design, new features, new capabilities! TA37 extension (semiconductors) - 600V/100A TA37.TIM extension - measurement of time parameters TA39 extension (OpAmps) - with differential output, very low input bias current measurements (in pA range) Ideal for COTS and HiRel testing in Space and Military sector!