UNITES Systems a.s.
Kpt. Macha 1372
757 01 Valašské Meziříčí
Czech republic
T: +420 571 757 230
E: e-mail contacts
Quality management
In March 2007 UNITES Systems a.s. successfully achieved audit certification for ISO 9001 accredited by UKAS and ČIA.
This outstanding achievement was a direct result of the entire organization working together to effectively develop and maintain the Quality Management System. Earning these certifications clearly shows the
company´s commitment to exceeding our customer´s value, quality, and performance expectations.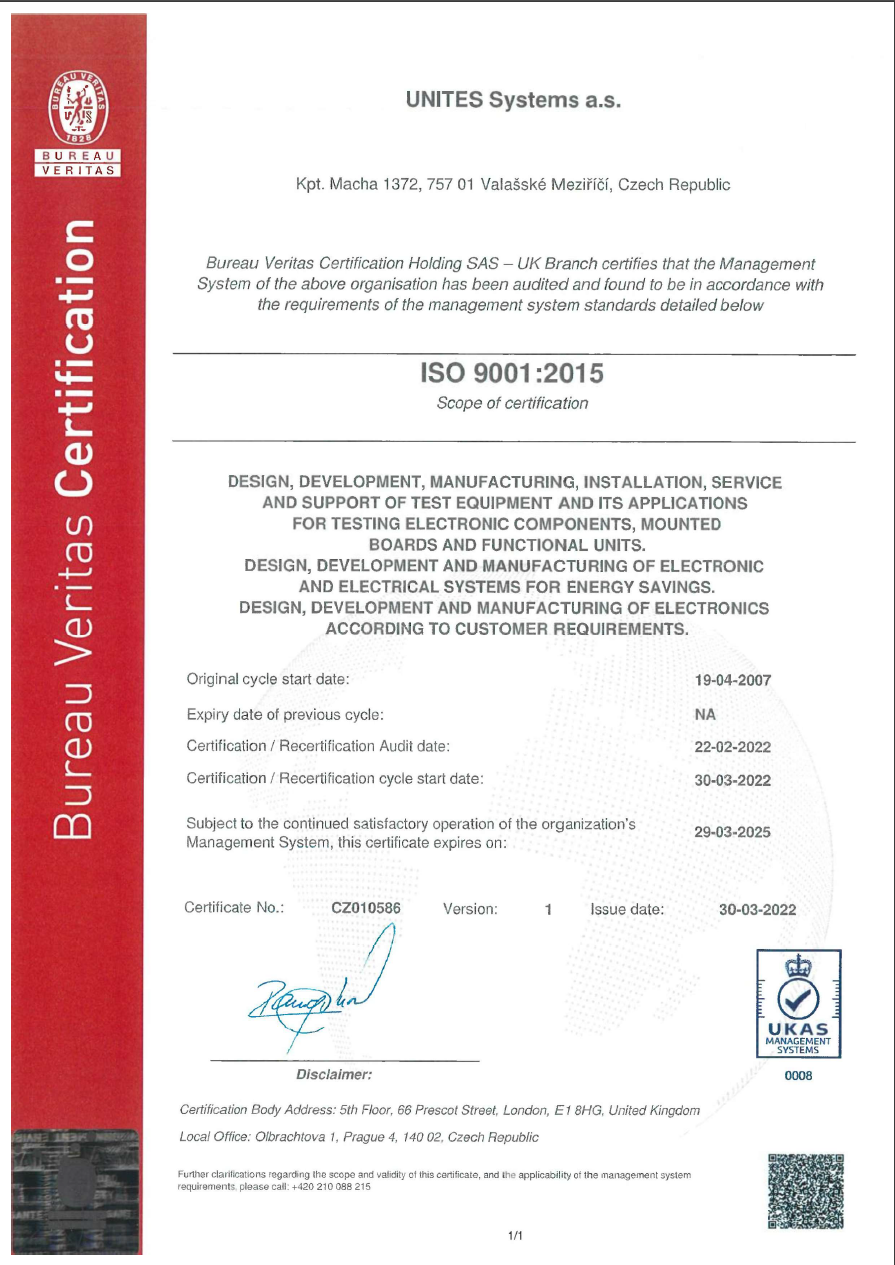 Our mission is to create superior value for our customers, partners and employees
The UNITES QMS documentation is divided into several sections, each one containing explicit procedures and processes to follow and maintain the quality of our products and services. They provide benchmarks for our current operations, and serve as the means to expand and improve future operations.
Management Responsibility
Our executive management is ultimately responsible for establishing and enforcing the UNITES QMS. They communicate its goals and importance to the staff, establish the quality policy and our quality objectives, review and revise the QMS, and provide the resources necessary to uphold the standards set in place.
Resource Management
The UNITES QMS provides for the acquisition and distribution of the resources (people, suppliers, information, work environment, etc.) needed to produce our products and services at the highest possible levels of quality and customer satisfaction. This also applies to personnel training in individual disciplines as well as in UNITES corporate and QMS policies. Our employees know the importance of their activities, and how they help to achieve the corporate quality objectives.
Product Realization
To ensure that our products meet development and market expectations, the Sales and Technical departments contribute product input through customers suggestions and their feedback, industrial research and hardware, software capabilities. The development of all our products takes place in-house, and is subject to the rigorous specifications of the UNITES QMS. All products are verified by the development against the product specifications and validated by Quality Assurance. Verification and validation records are kept to measure the relative quality of products and their suitability for release.
Measurement, Analysis, and Improvement
The UNITES QMS establishes a corporate-wide philosophy of continual improvement. Our quality policy and quality objectives drive our improvement efforts. We can determine areas for improvement by analyzing past performance data and customer feedback. We investigate the causes of nonconformities and take appropriate actions to ensure that they do not recur. All preventive and corrective actions are recorded and stored for future reference.